Rocky Pointe Marina – Boatyard Services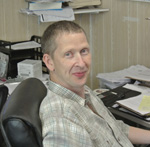 Dave Salmi has nearly 35 years of experience at his family boatyard in Warrenton.
Bottom Painting- Competitive rates on seasonal bottom painting which includes haul out, pressure wash, running gear inspection, sanding prep, 2 coats of stock bottom paint and return to the water or your trailer.
Fiberglass Repair- Expert repairs from cosmetic gel coat scratches to structural repairs on hulls, keels, decks and stringers.
Engines and Mechanical- Gas and diesel engine tune ups, re-powers or rebuilds. Servicing gearboxes, transmissions, I/O units, linkage, fuel tanks, generators, steering controls, engine mounts. All makes and models.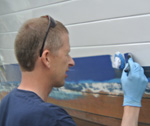 Painting- Hulls, topsides, decks and boot stripes all professionally sprayed with Awl Grip or EZPoxy. Year round inside our shelters.
Blisters, Wet Hulls and Decks- The local experts on these repairs. We test each hull for moisture and have the ability to dry boat hulls or decks in days with our HotVac Hull Cure machines.
Steel and Aluminum- sandblasting, welding and specialty coatings for all metal boats.
Props and Shafts- From a simple prop swap or inspection to repairing or replacing bent props, shafts, rudders and struts. Precision alignment of shafts. PSS drip less seals a specialty.
Woodwork and Planking- Skilled woodworkers install planks, ribs, stringers with matching wood from Honduran Mahogany to Alaskan Yellow Cedar.
Electronics and Systems- With one or more ABYC certified electricians on staff, we can install and wire just about any electronic or system from radar, dinghy winch, to bow or stern thrusters.
Other Services- Mast stepping, rigging, transport loading, detailing, buff and wax, hull extensions, topside paintjobs, insurance estimates and more.
Always a Prompt Written Estimate